Post by scarlett on Mar 18, 2021 1:43:05 GMT
CONTRACT

---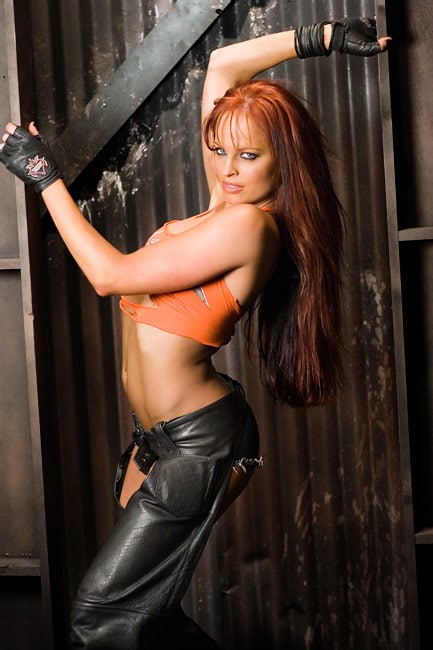 Pic Base:
(Christy Hemme)

---
BASIC INFORMATION
Full Real Name:
Brea Lombardi


Ring Name:
Brea Lombardi


Nicknames:
The Leather Rebel, Mistress of the Metal Mulisha


Twitter Handle:
@brealombardi


Age/DOB:
25, 11/20/1995


Height:
5'7"


Weight:
136lbs


Birth Place:
Aurora, Illinois


Billed From:
The Heavy Metal Capitol of the World, Aurora, Illinois
---
PERSONALITY

Alignment:
Face


Gimmick:
Loud, cocky, rockstarlet (read: Genderbent Warhorse)


What Show Would You Prefer To Be On:
- Delete the one you don't want.
Entrance Theme:
"Leather Rebel" by Judas Priest


Entrance Description:
The opening riffs to "Leather Rebel" would play, as Brea struts to the ring, as she she does a windmill style headbang, before whipping her head back and flashing some devil horns before she runs to the ring while she is played in. Brea would stop briefly to rock out with some fans at ringside, before hopping up to the apron and dropping into a split. She rolled under the bottom rope and kipped up, before posing for the crowd as her theme fades out.
Favorite type of match:
Street Fight


Least favorite type of match:
Bullrope


Favorite Weapon:
Stratocaster, Drumsticks


Professional Wrestling Debut
Independent Circuit:
Professionally:
---

WRESTLING INFO
In-Ring Strengths:
- High-Energy (Fights in constant motion)
- Great Improvisation (Good reactionary thinker)
- Resistant to Weapons (Her time spent in Slaughterhouse has made Brea adjust more to weapons being used on her)

In-Ring Flaws:
- Thinks too much in the moment, not in the long-term
- Young in the Business (Her ground game is not well refined)
- Showboats a little too much

Wrestling Style:
Brea has a lot of character and is equal part theatrics to wrestling. Parts of her offense are even adapted by performances or famous rockstars like Pete Townsend, Eddie Vedder, Eddie Van Halen and others.

Wrestling Attire:
Leather Pants, boots, and usually a band shirt that is cut up or tied into a top.



Finishing Moves:

Symphony of Destruction (Berkocet)
Mosh-Room Stomp (Diving Double Foot Stomp)




Trademark/Signature Moves:

Tornado (of Souls) DDT
Powerslide Lariat to a kneeling or seated opponent
Split Legged Guillotine Leg Drop (Standing or Avalanche)
Stage Dive to the outside (Either uses a propped up chair to hop onto the top rope and dive, or dives outside off the turnbuckle)


-



Common Moves:

(Minimum of 10.)

1. Ripcord Jumping Knee Strike

7. Vertical Suplex w/ Floatover Pin

8. Bulldog (Running, Diving, Springboard)

10. Elbow Drop (Standing or Diving, with windmill theatrics)


Tendency To Cheat
Rarely
---
HANDLER INFO
Can You Help Write Matches:
Sometimes
Your OOC/Handler Name:
Scarlett