Post by Faye Brown on Jan 31, 2021 5:24:31 GMT
CONTRACT

---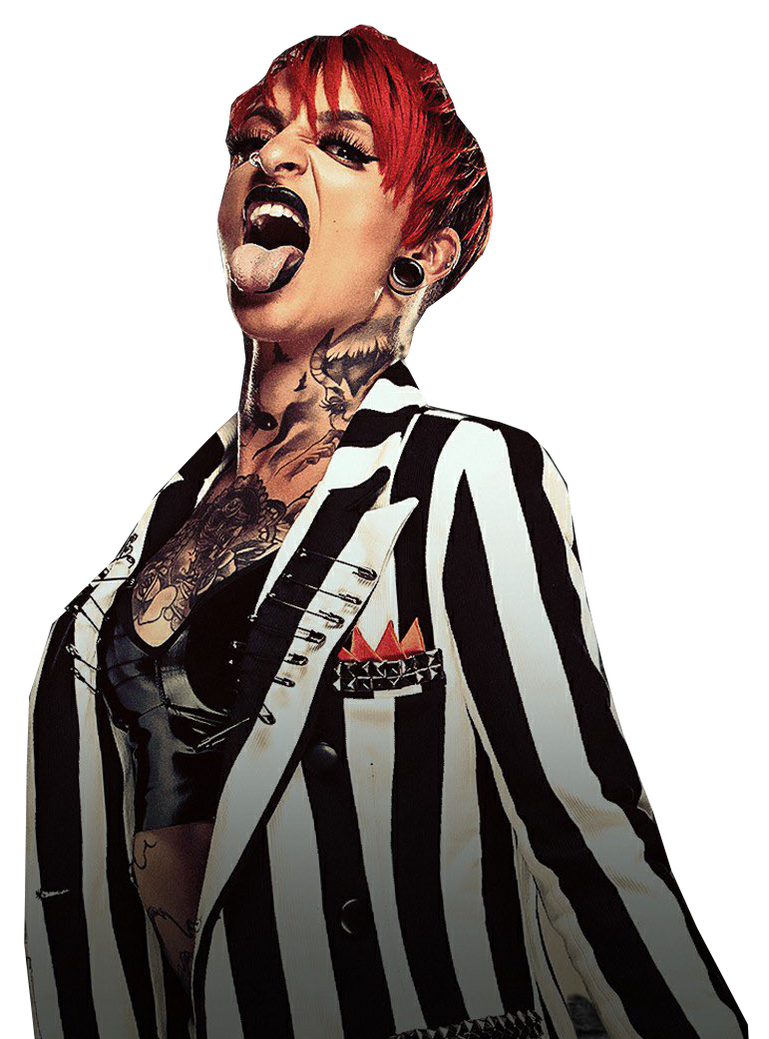 Pic Base:
(Ruby Soho)

---
BASIC INFORMATION
Full Real Name:
Faye Edita Brown


Ring Name:
Faye Brown


Nicknames:
The Scrap-Iron Scarecrow; The Resident Rockhouse


Twitter Handle:
@ HardRockCaFaye


Age/DOB:
30/October 28th, 1990


Height:
5'2"


Weight:
114 lbs


Birth Place:
Brooklyn, New York


Billed From:
Syracuse, New York
---
PERSONALITY

Alignment:
Face


Gimmick:
A former rock musician and wrestling manager who embodies perseverance through her ferocity and tenacity (and just a hint of bitterness), and someone who, because she's a New Yorker, always has something to say.


What Show Would You Prefer To Be On:
- Delete the one you don't want.
Entrance Theme:
"Bad Boys (M.I.T.B. Remix)" by Method In The Badness


Entrance Description:




The sounds of police sirens and helicopter rotors fill the arena before a familiar bassline starts.

BAD BOYS! What'cha gon-what'cha gon-what'cha gonna do?

Thea Crawford: ...being accompanied to the ring by the Animated Maniac of NFW, Logan Bailey, from Syracuse, New York, weighing in at 114 pounds... the Scrap-Iron Scarecrow, FAAAAAAAAAYE BROOOOOWN!

Once the "Method In The Badness" remix of Inner Circle's "Bad Boys" kicks in, out walks Faye Brown, sans glasses. Flanked by Logan Bailey, the couple pause on stage to take in the sights and sounds. Faye quickly points to the ring, prompting the two to seemingly march. Once the duo reach ringside, they pause in their tracks at the apron before backing up then rolling in. Brown climbs the nearest turnbuckle and wingspans as Logan points at her and yells "THAT'S MY GIRL!" Faye then sits atop the turnbuckle while Logan crouches underneath her towards the bottom of the turnbuckle as the "Bad Boys" remix fades out.

Favorite type of match:
Singles match


Least favorite type of match:
Any free-for-all match with more than one opponent, though team-based matches are OK.


Favorite Weapon:
Guitar (because of course)


Professional Wrestling Debut
Independent Circuit:
Professionally:
---

WRESTLING INFO
In-Ring Strengths:
- All-around body strength (Given her experience of having performed in concerts before, and having been a manager at one point, there's not much on Faye that's physically weak. For 5-foot-2 and 114 pounds, she's lean and can use any part of her otherwise diminutive body as a weapon.)
- Tenacity (Faye, if she can help it, won't quit, even in the face of absolute defeat.)
- Stamina (Going back to her concerts, Faye's stamina is on a fairly high level. Just like how she went for a couple hours on the stage, she can go for a while in the ring, even if it's not the cleanest.)

In-Ring Flaws:
- Experience (obviously)
- Tenacity (Yeah, Faye is the type to never give up, but to a fault. It ties back into her lack of experience, really. Even if she knows she'd lose, she'll still fight.)
- Her mouth on occasion. (While Faye is far from cocky, she isn't afraid to say how she feels about a situation, and not afraid to defend her stance thereupon)

Wrestling Style:
Faye is very much a brawler. There's a thrill she gets from trading fists and forearms with her opponent or opponents. She can sort of fly around, though she feels most comfortable with her feet on the ground.

Wrestling Attire:
If you don't have a wrestler as a PB, please describe their in-ring and entrance gear.
(So I can skip this, then?)



Finishing Moves:

- "Riot Maker" (Rainmaker DDT)
- "Battery" (Jumping leg lariat)




Trademark/Signature Moves:

- Elbow drop from the top rope
- Multiple Bell claps
- Shining Wizard
- Arm wrench pele (because of course)




Common Moves:

(Minimum of 10.)

5. Feint roll-up pin into a kick to the side of the head

6. Elbow to the side of the head

8. Running knee in the corner into a bulldog

10. Spear

Tendency To Cheat
Rarely (Only if Faye has stopped really caring and simply wants to have some fun. She'll never get away with it, however.)
---
HANDLER INFO
Can You Help Write Matches:
No
Your OOC/Handler Name:
Logan (and I promise I'll play nice this time.)