Post by Steven Brody, CEO on Dec 4, 2018 8:44:20 GMT -8
The show opens with a specialized montage of highlights focusing solely around the women of the NFW roster to the sound of Jonathon Young's cover of Pat Benetar's "Hit Me With Your Best Shot" featuring Savannah Stuckmayer.

The video focuses on every member of the women's division, showing fast clips of Lara Blackheart running down the ramp in her father's old jacket, Erin Mercer looking over her shoulder with her sultry wink, Mia Hayashi leaning through the ropes with a double middle finger to the camera, Alex Brody interacting with fans and so forth. Finally, the logo for the tournament flashes onto the screen.


And the camera angle cuts to the arena where the pyro goes off all around the stage. Once again, we are in the Echo Arena Liverpool and greeted by the trio of Nick Hanson, James Reynolds and Matt Klazzic.

HANSON
"WELCOME BACK, LADIES AND GENTLEMEN, TO THE ECHO ARENA LIVERPOOL, HERE IN BEAUTIFUL LIVERPOOL ENGLAND!!"

REYNOLDS
"Fuck that! It's cold as shit, Nicky!"

KLAZZIC
"Fancy a spot of warm tea, James?"

We hear Matt Klazzic putting on a phony British accent before we cut to the announce table itself and see that Klazzic actually HAS a pot and a cup.

REYNOLDS
"Did you seriously bring fucking TEA?!"

Reynolds looks more annoyed than anything as Matt Klazzic sips from the cup and switches back to his real accent.

KLAZZIC
"It's fantastic with milk. Want some, Nick?"

HANSON
"You know what? Why not? Thanks, Matt."

REYNOLDS
"Both you assholes are gonna give me a coronary. Anyway, what's boss man doing in the ring?"

The cameras cut over to Commissioner Stephen Brody, already standing in the ring with the microphone in his hand. As the crowd died down, the commissioner finally began to speak.

"Since the day my daughter Alex joined the ranks of the NFW Women's Division, I've been accused of nepotism. And I can understand it. While I've given Alex no special treatment, if I was one of the other wrestlers, I would feel uneasy about the child of the commissioner getting opportunities that I didn't."

He paused, thinking of his next words carefully.

"My first impulse was to step down. So that Alex could flourish without my shadow hanging over her career. But Alex insisted I not quit my job because of her. So I've thought long and hard of how to solve this problem... and I finally came up with a solution. As of today, I am introducing the General Manager of the Women's Division. She will have equal power to myself, and will have all control over the women's division, as I will over the men's."

The crowd popped at the mention of a new co-GM, before Brody quieted them down.

"I talked to several women about this position. And the one I decided on... might seem out of left field for those who remember her. But I promise you... this young woman is smart, strong, and will not take ANY abuse from the roster. Ladies and gentlemen, I present to you, Co-General Manager of New Frontier Wrestling.... Savannah Hayes!"

HANSON
"WHAT?!?!!?!?"

REYNOLDS
"NO WAY!!!!!"


As Motley Crue's "Hell On High Heels" began to play, the former "Nurse Savannah" walked out onto the stage, doing her old dance for a moment before laughing and walking down the aisle.

KLAZZIC
"YOU GOTTA BE KIDDING ME!!!! SAVANNAH HAYES IS BACK?!?!"

HANSON
"And she's gonna be running the NFW Women's Division!!!!!"

While now in her late 30s, the blonde bombshell looked as amazing as she did at 22. Stepping into the ring, she graciously took the mic from Brody, who shook her hand before leaving the ring all to her.

"Thank you, Stephen. NFW, it is great to be back!" She smiled, taking in the cheers of the crowd. "As Women's Commissioner, I promise you all to be fair, to be innovative, and to take this division places it's never been before. I'm not gonna take up any more time here... this time is for the amazing athletes I'm here to oversee. Enjoy the Queen of the Ring, everyone... we're gonna amaze every last one of you!"

HANSON
"WOOOOWW!!!!!"

KLAZZIC
"INCREDIBLE!!! THIS IS EVEN MORE EXCITING NOW!!!!"

REYNOLDS
"Damn, she's still got a fine ass."

HANSON
"Really, Jim?"

REYNOLDS
"What?"

KLAZZIC
"Have some tact, James Reynolds. It might do you some good."

We cut to a short advertisement from one of the sponsors.

------------------------------------------------------------------------------------------------------------------------

As the camera shot faded in, the angle caught Erin Mercer in her ring gear for the night -- this time it was white with black accents. Over the top piece was a sleeveless, Merlex t-shirt cut up to resemble the style Hulk Hogan used to wear his own shirts in the Golden Era - slits and all. As the camera stayed with Erin, she moved throughout the arena, seemingly in search of someone or something.

"ALEX!!" Erin called out at the top of her lungs. Her voice echoed throughout the backstage area. "ALEX, WHERE ARE YOU?!" Erin called again, looking to be on the desperate end -- even a little worried -- as she stopped at the concession table and got the attention of a stagehand. "Hey, have you seen Alex around?" The man shook his head. Erin sagged her shoulders with a frustrated sigh and continued on. "Has anybody seen Alex?!" Erin shouted as she searched - the shot fading out to advertise for one of NFW's sponsors....

Fading back in from the advertisement, Erin Mercer was seen STILL looking for her friend and tag partner. "ALEX!!!!!! WHERE THE---" "Excuse me, Erin?" Amy Connors stopped the woman, seemingly out of nowhere. "You're looking for Alex?"

Erin Mercer sighed with hopeful relief. "Yes! Have you seen her?!"

Pausing, Amy Connors looked a little concerned as she nodded towards something offscreen. Erin turned and, with the camera also turning, found herself looking at the sign for the Ladies' Restroom. "Umm...thanks, Amy." Erin said, leading the way over. "Alex? You in here?" Upon opening the door, Erin was immediately greeted with the stomach churning sound of someone retching their guts out, horribly. Erin grimaced. "Uhh...Alex? That you in there?"

"Go away...." Alex managed to blurt out between retches, just sounding adorably pathetic in there. "I'm gonna DIE tonight, Erin!" Yep. Alex Brody. "Lionheart". Puking in the can.

Rolling her eyes, Erin motioned for the camera man to follow her into the restroom after ensuring nobody else was in there taking care of anything that would have required more privacy. Finding the stall that Alex was in, only identifiable by her boots sticking out, Erin leaned against the wall across where she'd be able to actually see her girl while the camera man remained off to the side. "Do you have any idea how ridiculous you're being, right now?" Erin asked, shaking her head. "It's not like she's gonna go out of her way to *TRY* and kill you." Erin stopped and thought, looking adorable herself as she rubbed her chin. "I mean, yeah it *is* gonna be like David and Goliath in a sense but hey! It's not like you can't pull a win off, right?"

Finally, after one more flush, Alex opened the door and stumbled out, white as a ghost. "I was fine. Really. I was even starting to feel a little confident." Alex told her, nibbling on her bottom lip. "But then I got here today, and Mia text me a video with the words "Have fun tonight!" and footage of Viper hitting A FREAKIN' CANADIAN DESTROYER, ERIN."

Erin grimaced, looking more annoyed than anything as she grumbled swears under her breath. "I swear, I'm gonna kick her little ass!" She said before snatching a couple of paper towels out of the dispenser and soaking them down. Erin looked more like an big sister than a tag team partner as she moved up to start wiping Alex's mouth off. "Look. Mia...she's a royal pain in the ass. We both know this. You need to forget about whatever she does to try and tease you and keep your head in the game! Hell, did you go talk to Morgan like I suggested? She was the one that faced her last. Remember?"

"I tried! But you know Morgan!" Alex flailed, rolling her eyes. "She means well, but she's got the attention span of a crack baby!" Still, talking to Erin was having a calming effect on her, and Alex visibly was settling down. "How am I supposed to beat someone that much bigger than me without a good submission game?"

Erin began rubbing her temples in frustration as Alex had a point. She could only imagine what kind of advice Morgan gave her friend in regards of how to wrestle someone that outmatched her in size and power. "Okay, okay. Good point." Groaning in frustration, Erin clasped her hands together, resting her mouth against her index fingers as the gears in her head began turning. Finally, her green eyes went wide with realization. "I got it!" She turned, raising an index finger towards Alex. "Doubleyew doubleyew cee jay dee?" She gave it a moment to process before seeing Alex was lost. "What Would Chris Jericho Do? Remember when he took on the Big Show on Smackdown in nineteen ninety nine? Was he afraid of someone twice his size? Hell no!"

Alex thought about that for a moment. How WOULD her mentor handle this? Thinking of it that way, she quickly perked up, snapping her fingers in realization. "Take out the foundation, and the whole building crumbles!"

"Exactly!" Erin gave Alex a high five. "He wasn't terrified of a giant! He went out there, he talked his shit and he gave the Big Show *everything* he had! That's what you need to do, babe!" Erin gave Alex a shake of the shoulders to pump her up. "Now get out there and break the walls down!!"

"Yes! I can totally do this! Keep my distance, take out the legs, go in for the kill!" Alex said excitedly, before wincing a little. "Figuratively, I mean. I wouldn't really wanna KILL her, I don't have anything against Viper..."

Erin shook her head, patting Alex on the back. "We know that. Don't worry. Just remember. WWCJD! Now get out there and make me proud!!" With a playful little slap on Alex's bum, Erin sent her off. The camera focused, then, on Erin's proud smile as she watched her once terrified friend go off, confidently, to face her opponent. "Umm...Erin?" The man behind the camera spoke up, warily. "Yeah?"

"You *do* know that Big Show kicked the *shit* out of Chris Jericho in that match, right?"

"Shhhh...." Erin hushed him with a finger coming up to her lips. "I know, I know, just...don't remind her of that.... Just let her be." Erin said; her smile a forced one, now, as she only hoped her words were enough to instill the confidence Alex needed to overcome this challenge ahead of her. "Go get 'em, Alex!" Erin said, pumping her arm and walking out of the bathroom as the shot faded.

------------------------------------------------------------------------------------------------------------------------

Back at ringside, the quarterfinals were finally ready to get underway when....

Disturbed's "The Vengeful One" suddenl came on over the arena sound system, drawing a surprised reaction from the crowd.

REYNOLDS
"What the---?"

ARDEN
(on the mic, in the ring)
"Ladies and gentlemen, at this time, please welcome your NFW Women's Champion...ADRIANNA...SALVATORE!!"

As the voice of David Draiman ripped through the speakers, Adrianna Salvatore came walking out onto the stage in her usual street attire of ripped jeans and a cropped black t-shirt that had the words "FIGHT ME" on the front, with the word "FIGHT" being spray painted in red over the word "FUCK". On her head, she wore a beanie with the Unwanted logo on it. The Women's Championship was held onto her right shoulder as she made a quiet approach, directly to the commentary table, setting the title down to be displayed for all to see before sitting down beside Matt Klazzic whom offered her a spare headset. Thanking him inaudibly, Adrianna took the headset and placed it over her head, adjusting the microphone.

HANSON
"Well, champ! Great to have you with us again! Welcome!"

SALVATORE
"Thanks, Nick."

KLAZZIC
"See? This is what a true champion is all about! You're here to scout your possible opponent for WrestleWar, right?!"

SALVATORE
"Can't get anything passed you, can I?"

The camera captures a look of genuine amusement on the woman's face as she makes herself comfortable and gets ready for the first match to begin.

------------------------------------------------------------------------------------------------------------------------

After slowly taking it to the bigger woman's knees with dropkicks, chop blocks, leg-whips and weathering the storm of overpowering offense, Alex Brody defeated Viper, by pinfall in 12:53, when she finally mustered up enough strength in her own battered body to charge straight at her and deliver the Absolute Zero, catching both legs as the referee dropped down to make the pin.

ONE!!

TWO!!

THREE!!

HANSON
"I DON'T BELIEVE IT!!!! ALEX BRODY IS GOING TO THE SEMI-FINALS!!!!"

KLAZZIC
"YEEESS!!!! WOOOHOOOO!!!!"

We get a brief glimpse of Matt Klazzic pumping his fists in his chair. Beside him, Adrianna Salvatore calmly claps her approval.

SALVATORE
"Thatta girl, Alex.... Thatta girl."

KLAZZIC
"Hey, you gotta commend her achievement, champ."

SALVATORE
"Absolutely."

Adrianna says coolly.

SALVATORE
"Alex is a tough girl. I take nothing away from her."

KLAZZIC
"How great would it be to face her again on the biggest stage NFW has? Is that something you could get behind?"

SALVATORE
"I'm ready to take on whoever makes it to the finals, Matt. At this point, each and every one of them deserve it."

REYNOLDS
"You realize there's still a chance you might face one of your teammates right, champ?"

SALVATORE
"Reynolds, the last time you tried to instigate I poured tea over your head. You start that bullshit tonight, it's gonna be hot tea."

KLAZZIC
"Hey, don't waste my tea!"

Matt sticks an arm, protectively, in front of his tea to protect it from Adrianna.

REYNOLDS
"I'm just calling it like I see it, champ!"

SALVATORE
"How about you shut up and just call these matches?"

HANSON
"God, I love when she roasts your ass. Anyway folks, let's have a word from our sponsor real quick and we'll be back with more action!"

The shot cuts to another advertisement.

------------------------------------------------------------------------------------------------------------------------

The camera opens up on a closeup of the back of an iPhone X inside a custom Pittsburgh Steelers case. Holding it is a woman's bronze skinned fingers with a fingerless glove over said hand. The nails on the hand are done up in glittery alternating black and gold with each black nail depicting one of the tiny Steelers diamonds on it. Panning back, it is revealed, as was probably expected to be none other than Morgan Payne. As always, there's her Steelers flat bill cap nestled backwards on her head. She's wearing her leather jacket over a cropped Iron Maiden "Run For The Hills" t-shirt and low rise, hip hugging black jeans that barely give off a peek at the black thong straps riding up onto her hips.

Focusing in on her smart phone, her expression is an oddly perfect mix of perplexed, cute and downright gorgeous as she raises an eyebrow at whatever she's reading. "YO, MARI!!!" She suddenly belts out within the locker room, reminding viewers that, as lovely as she looks, she can also be goddamn obnoxious. "YOU EVER HAVE A GUY GIVE YOU A BROOKLYN JACKHAMMER?!" And slutty....

"Really, Mor?" Marissa looked over to her partner, a look of anguish on her face. "I'm trying to hold my shit together here... I'm really not thinking about that kinda stuff." She was already dressed for her match, and had been sitting against the lockers, head in her hands. "Do you think anyone would think less of me if I just... I dunno.... forfeit?"

Morgan gave a guilty pout as if she had a hundred invisible people, simultaneously tell her what an insensitive bitch she was. "Oh. Damn." She shut off her phone and tucked it away in her back pocket as she hopped down from the table inside the locker room where she came to sit beside her bestie. "Sorry an' all. Just trynna lighten the mood, y'know?" She gave Marissa a playful nudge with her arm before the girl had posed her last question. Here, Morgan showed that rare, serious expression that was hidden deep within her. "Honestly? And I'm only saying this because you're like my sister and I love you, bitch. But...I can rattle off a handful of people that probably would. Because they know you." She poked her friend in the side of the ribs, playfully while looking at her in all sincerity. "What's the one thing both our families raised us to never do?" He held up a gloved hand, sticking out a gold painted index nail. "Quit." She said, before Marissa could answer. "I mean, personally? *I* wouldn't think anything less of you. It's ya Ma, yer fightin' t'night. And if it ain't for the fact that you don't wanna fight her cuz she's yer Ma, it's the fact that she's one mean, scary bitch and I wouldn't wrestle her by choice even if Chris Hemsworth and Joe Manganiello promised to spit roast my ass into oblivion as a consolation prize." For a second, that 'crack baby attention span' that Alex Brody had accused her of having earlier showed as the half Italian, half Puerto Rican girl stared off into the distance before closing her eyes at the image of what she just described, in her head. "Mmh! Damn." Catching herself, she opened her eyes and shook her head. "Anyways! Most of all? *She* would probably, at the very least, be disappointed in you. Think about it."

I know..." Marissa sighed, knowing Morgan was right. LeeAnn was a wonderful mother... but it was no secret that once in "work mode", she'd fight anyone, even her own daughter. "I feel like I'm gonna be sick. Like this is crossing some kind of line."

While Marissa voiced her own mindset, Morgan shamelessly stuck a cigarette into her mouth and lit it up. By now, backstage attendants knew telling her not to was like talking to a wall. She listened silently, taking heavy drags before she scoffed out a mouthful of smoke and tossed the half smoked cigarette away, looking at Marissa with some annoyance on her face. "Bitch, there ain't no lines being crossed here." She playfully shoved Marissa, almost knocking her over before catching her and pulling her over into a hug. "You act like this is some grudge match or somethin'. Like ya Ma's waiting to pound ya head into the canvas because you pissed on your family's name. I mean...I don't doubt she's lookin' to win this thing and if that means poppin' ya arm outta the socket, so be it. Not like it can't be popped back in." Morgan stopped herself. She was causing more harm than good with her words...again. The girl shook her head, pinching the bridge of her nose before opening her eyes to look at the girl who was the closest thing to a sister she ever had.

"Arright, look, Mari...we're the next in line to run this shit, right? Pops and Uncle D keep talkin' about retirin' soon or some shit and they wanna make sure we're ready, right? Think of this as a test or somethin'. Like...it's like yer final Jedi trial or some shit! Ya take on yer Ma...you beat her...hell, at the very least, survive what she throws at you...ya prove yer ready for when they hang up their boots. People look at the cahd and they see they gotta face LeeAnn fuckin' Viskan. They shit themsevles. And it shows when they walk out to that ring when she's waitin' fer 'em. Yer her kid...show her you ain't scared o'shit, no matter what. Even if it's her." Here, Morgan sat back and sparked up another Marlboro. "Sides...ain't like I ain't gonna be out there in ya corna, pumpin' yer ass up."

"Alright.. you're right." Marissa sighed. She knew LeeAnn would not HESITATE once in that ring, and if she didn't give 100%, she was likely to be hurt. BAD. "Just be ready, because win or lose, when this match is over, I am gonna need a shit ton of whiskey to get through the night." And Marissa really wasn't a drinker. She was easily the more levelheaded and straight-laced of the two. "And I do mean a LOT."

Morgan's face lit up with excitement as she slapped Marissa on the back. "Hah!! That's my girl!! You *know* I can get you lit on the good shit! And if you need to get fucked rawdog, too, I know a certain white boy that'd probably jump at the chance." She looked at Marissa, smiling big and winking with a thumbs up.

Marissa just stared at Morgan as though trying to figure out how the hell they ever became such good friends. "Morgan. Don't you fucking DARE. I mean it. I'm not interested. In him or ANYONE right now."

As Marissa moved off camera, Morgan watched her go, sticking another cigarette in her mouth. "Hey, I'm just sayin'. Y'been kinda uptight lately. A good dickin' might help! And he totally digs ya! MARI!!! C'mere when I'm talkin t'ya!" Morgan shouts, following her off camera before the shot switches back to ringside.

------------------------------------------------------------------------------------------------------------------------

In a shockingly brutal contest, Erin Mercer ended up defeating Lara Blackheart by disqualification in 10:28 when Lara, who had been hyper-aggressive since the opening bell, managed to get passed Erin's defense and took her down with a surprising MMA-style takedown before mountain the older woman and beginning to rain down a combination of stiff elbows and forearms across Erin's forehead.

HANSON
"My god! This is just brutal!! I don't think Erin can defend herself!!"

KLAZZIC
"This doesn't even look like a wrestling match anymore!"

REYNOLDS
"Say, champ! What the hell's your friend doing in there?!"

SALVATORE
"Shut the hell up, Reynolds. You think I know?"

HANSON
"Oh my god, guys. I...I think...no wait, yes. Yes! Erin Mercer's busted open!!"

Cutting back to the inside of the ring, it was quite obvious that Lara Blackheart had lacerated Erin Mercer's forehead with the shots and kept on going. Finally, the referee called for the bell to be rung and passed on a message to the ring announcer.

HANSON
"Wow. That's it, huh?"

ARDEN
"Ladies and gentlemen, the referee has called for a stop to this match. Therefore, here is your winner: "America's Sweetheart"...LARA...BLACKHEART!!"

The crowd gave a cheer for their favorite as Ghost's "Dance Macabre" began playing throughout the arena, again.

REYNOLDS
"I have to say, I'm a little impressed with little Lara!!! Girl found some spunk and I don't mean from some random guy!"

HANSON
"JIM!!!"

KLAZZIC
"Uhh...guys? What the hell is going on?"

Inside the ring, Lara Blackheart appeared to be in a blind rage as she *continued* her assault on Erin Mercer. STILL bringing her elbows down across her head. Erin's face was completely covered in blood now and it was beginning to run into her hair. As the referee continuously tried to pull her off, Lara only shoved her away and continued.

HANSON
"Whoa, whoa, whoa!!"

KLAZZIC
"Okay, someone needs to stop her!! NOW!!"

SALVATORE
"Lara, what the fuck are you---"

The rest of Adrianna's sentence was drowned out as the woman ripped the headset off and hurried into the ring as the music stopped abruptly and the timekeeper began to frantically ring the bell.

~DING DING DING DING DING DING DING~

"LARA!!!! LARA, GET OFF OF HER!!" Adrianna could be heard yelling as she too tried to pull Lara off of Erin, only to be shoved away. Finally, with no other idea of how to stop what was going on, Adrianna -- with regret on her face -- swooped in and threw an arm around Lara's neck, throwing herself back and locked the smaller girl into a rear naked chokehold.

HANSON
"She's got her off!! Thank god!!"

KLAZZIC
"I hate that it had to be done like this, but finally!!"

Once the referees and the ring doctor surrounded Erin Mercer and began attending to her, Adrianna let go of Lara once she had calmed down at least a little. Here, Lara Blackheart abruptly slipped out of the ring and stormed up the ramp. However, with her actions following the bell, the referee called for Roger Arden to make another announcement.

ARDEN
"Ladies and gentlemen, the referee has just informed me that she has reversed the decision of the match due to unsportsmanlike conduct. Therefore, the winner of this match...as a result of a disqualification...ERIN...MERCER!!!!"

HANSON
"WOW!!!!"

KLAZZIC
"A great call by the referee!! I usually have nothing but great things to say about Miss Blackheart, but this attitude of hers tonight is unacceptable!"

REYNOLDS
"You kidding? I think it's hot!!"

HANSON
"Well, like it or not, America's Sweetheart just got disqualified and that young lady still in the ring will be going on to face Alex Brody in the semi-finals!"

KLAZZIC
"If the poor girl can even make it there!"

REYNOLDS
"Certainly doesn't look it!"

Back in the ring, Adrianna Salvatore stood at a loss as a stretcher was rushed to the ring, with Alex Brody and, surprisingly, Vincent Stone, dashing down the ramp to check on their friend, themselves. The look on Alex's face was -- as expected -- downright heartbreaking, with tears running down the poor girl's face. Stone, meanwhile, it was unclear as to which emotion he was feeling more: worry or anger. The look on his face was a confused mixture of the two as the referees ushered him and Alex back to give them room as they carefully placed Erin Mercer onto the stretcher with a towel over her face and rushed her towards the back. The shot cut back and forth between Adrianna and Stone with Alex, exchanging confused, uncomfortable glances as it faded to black and switched to an advertisement for the final pay-per-view show of the year.

------------------------------------------------------------------------------------------------------------------------

The shot slowly fades in with the visage of a woman wearing a dark colored kimono. Mostly black with violet lavenders and pink cherry blossom flowers adorning it like pedals blowing about in a night breeze. The woman's long hair, smooth and straight like fine silk, lies parted in the middle. It's kept up in a bun behind her head but the bangs shroud her face as she has her gaze aimed downward in a meditative state. The white hair of the woman gives her identity away, however....

It's Angel Kusanagi....

As the camera pans back, slowly, Angel is depicted sitting on her knees with her hands on her lap in a meditative posture.

"Shi ga chiisai menoko datta toki ni...shi no kazoku ha mori no ie o shoyuu shiite i ta...."
[When I was a little girl...my family owned this home in the woods....]

Angel's voice sounded as if it were echoing; coming from all around. A part of the background sound, rather than coming from the actual woman, kneeling there in the dimly lit dojo, whose mouth itself, didn't actually move.

"Maitosi ka niha, watashitachi ha so ko ni otozureru darou...."
[Every summer, we would visit there....]

The camera angle cuts to a depiction of a dense forest, where a child's laugh is heard in the distance.

"Chichi ga shi ni iu ta bi ni: Ko no josei ni chuui shite ku dasai. Kanojo ha honmono da. Kanojo ha aku desu."
[Every time, my father would tell me: Beware of the woman in the lake. She is real. She is evil.]

Angel's voice takes on a sharp, eerie whisper as the angle flashes to depict an eerie, feminine figure standing amongst the trees, partially obscurred behind one. Long black hair shrouding her face. Dressed in a long white gown.

Angel's voice then giggles and we briefly see her back in the dojo. Just enough to see her lips parted in an amused grin as she giggles to herself and speaks in a fond, almost playful tone.

"Shi hai tsu mo soreha tannaru kaidan dato shi tte i mashi ta."


The angle cuts back to the black and white shot of the forest.

"Sono tokutei no ka ma de...."
[Until one summer....]

A little girl's feet go running passed the camera, across the forest floor.

"Shi ha shi ga yuu nde i ta ma, shi ga sa mayo tte i ta donokurai ma demi gen shina ka tsu ta."


We see the back of a little girl in a summer dress, running playfully through the forest, trailing a streamer behind her.

"Shi ha maigo ni na tsu ta...."


The angle flashes and we see the same little girl, huddled on the ground. Hugging her knees against her, she sits by the water, crying into arms.

"Soreha kanojo no koe o ki i ta toki desu."
[That's when I heard her voice.]

In the black and white depiction, the little girl lifts her head with a startled gasp. The camera pans, from her perspective, across the forest as we hear the echoing sound of a woman's eerily calm humming.

"Furi mukai ta...."


From another perspective, the little girl spins around and looks directly up at us.

"So shite, so ko ni kanojo ga i ta!"
[And there she was!]

From the little girl's perspective, we gaze up at the obscurred feminine figure from before. Her black hair continues to hide her face, but we see that her skin is split with several old wounds. Rotting. Decaying. The figure calmly extends a hand out in offering to the girl. The little girl screams and falls back into the water, splashing down and sinking beneath the surface.

"Shinu to shi tte ta...."


As she sinks deeper and deeper into the water, the little girl's eyes drift shut.

"Shika shi...."
[But then....]

Suddenly the little girl sits up, wrapped in a dry bath robe, in the safety of her bedroom inside the cabin. She's still damp from the lake. Her father and mother are there, immediately to console her.

"Shi no chichi ha shi ni ka ga ki kotsuta ka hiro ne mashita."
[My father asked me what had happened.]

We see the girl, sobbing and terrified, reaccounting the experience to her father who sits and listens calmly. Rather than hear her actual words, Angel continues to narrate.

"Shi ha kare ni ki i tei nai no ha zannen datta kare ni gen i mashita. Shi ha ko de josei o mi ta koto o kare ni gen i mashita!"


In the black and white depiction, the girl's father laughs and strokes her hair.

"Shi no chichi ha hohoe nde, shi ni shinpai shina iyo u ni gen tsuta."
[My father told me that I had nothing to worry about.]

The little girl, looking sad and confused shakes her head.

"Shi ha kare ni riyuu o oshie te ku re to yori nda."


The girl's father, while we only see his mouth, smiles and begins inaudibly responding to her.

"Kare ha sorega atsu ta koto o shi ni gen tsu tano de...."
[That's when he said to me, 'don't you see, daughter?']

Whatever he has said to her, has the girl looking absolutely horrified.

"Ana ta ha ko no josei desu!"
[You are the woman in the lake!]

Back in the dojo, Angel's eyes SNAP open right in front of the camera. Her eerie blue gaze piercing through the dark as everything around her dims to total blackness, leaving only her eyes visible.

"Sherrey...Siruveru.... Ana ta ha kaibutsu o nobu ji te masu ka?"
[Shelley...SIlver.... Do you believe in monsters?]

As Angel's eyes faded away in the blackness, the words:

~BELIEVE IN MONSTERS~

Appear on the screen before Angel's face reappears, illuminated by eerie flashes, shrieking at the camera. A special effect depicts her with sharpened teeth; blood running from her mouth before the segment slams to black again...and ends....

------------------------------------------------------------------------------------------------------------------------

Following Angel Kusanagi's vignette, the shot abruptly returns to the announce table with James Reynolds staring right up at the video wall. He silently mouths:

REYNOLDS
"(What...the...fuck...?!)"

HANSON
"Well that was...what's the word?"

KLAZZIC
"Nightmare fuel? Because I'm certainly not sleeping tonight, after watching that. I'll tell you that much!"

HANSON
"Interesting, to say the least. Champ? You know Angel Kusanagi better than any of us, here. Care to fill us in on whatever that was?"

The camera cuts to Adrianna sitting at the table again with her headset back on but staring down at nothing in particular. Her face looks confused and troubled over the previous match, still.

KLAZZIC
"Adrianna?"

This jars Adrianna's attention from her thoughts as she looks at the three.

SALVATORE
"Sorry.... I'm just.... I don't know, man...."

KLAZZIC
"It's alright. Take your time."

REYNOLDS
"Say, why are your friends all so damn crazy?"

HANSON
"JIM!!"

REYNOLDS
"Well, it's true! First Lara Blackheart bloodies a girl and then...well...THAT!!!"

James Reynolds points at the video wall.

KLAZZIC
"James Reynolds, if this young lady decides to fly across Nick and myself just to pummel you into oblivion, I fully condone it."

HANSON
"Look, can we all just...please calm down...? Let's just call the next match."

The camera catches a brief glimpse of Adrianna Salvatore staring daggers over at James Reynolds before turning back towards the ring as Halestorm's "I Am The Fire" begins to play, throughout the arena.

ARDEN
"Introducing first -- for the next quarterfinals round -- being led to the ring by Sloane Cameron -- from Seattle, Washington...she is the leader of the Raindrops...SHELLEY...SILVER!!!!!!!"

Shelley Silver appears on the stage, with Sloane right at her side. She grins as she looks around and makes her way to the ring, high-fiving fans and stopping to take selfies with them before hopping up onto the ring apron. She wipes her feet off before stepping between the bottom and middle ropes. As the song fades out, she begins bouncing off of the ropes, preparing herself for the match.


As Shelley waits in the ring, with Sloane stepping out, the lights dim down, nearly shrouding the arena in darkness as Camelia and Hatsune Miku's "Splatter Party" slowly builds over the speakers.

While the video wall displayed footage of a little girl, running slow motion through a forest, filtered over in red, the audience sang along with the opening "la-la, la-la-la-la." As the song picked up with the lyrics starting, the Angel Kusanagi's silhouette became visible under the dim, flashing red light before starting her leisurely stroll down the ramp.

ARDEN
"Introducing her opponent...representing the Unwanted...from Osaka, Japan...ANGEL...KUSANAGI!!"

REYNOLDS
"This woman creeps me out, guys. Seriously."

HANSON
"Definitely not someone I'd wanna get on the bad side of!"

KLAZZIC
"I think I had a nightmare of Angel Kusanagi standing over my bed, just staring at me."

REYNOLDS
"Matt, you've never had a woman anywhere *near* your bed."

As this banter went on, the camera captured Adrianna Salvatore simply staring at the ring, watching carefully.

As the music continue, Angel Kusanagi entered the ring, immediately crouching back into her corner where she stared at Shelley Silver (and Sloane Cameron) from underneath the hood on her robe. She wasted no time, however, stripping the robe off and tossing it outside of the ring once her music stopped and the lights came back on. And when the bell rang....

~DING DING DING~

She wasted no time in coming at Shelley Silver like a demon, set free straight out of hell....

Over the span of the match, Shelley Silver had the clear strength advantage. For a woman that was able to pull surprising bursts of power out of nowhere that resulted in her slamming men well over two hundred pounds, overpowering her opponent - who was a mere 105lbs - took no effort at all.

Where Angel Kusanagi benefited, in this situation, was overall speed and agility. Combined with her deadly striking ability, the pint sized Japanese woman was more then a handful for the Leader of the Raindrops with stiff kicks aimed at the legs and ribs while forearms were aimed at Shelley's jaw and neck with deadly precision. It was no walk in the park, however, as Shelley found more than her share of openings and opportunities to grab ahold of Kusanagi and dish out her own form of punishment. Silver's forearms were just as deadly, as were her knees, on top of her aforementioned slams and - in the case of with Angel - downright throws and tosses. One instance, in particular, saw Shelley Silver hit a snap German Suplex that sent Angel Kusanagi sliding out of the ring and to the outside mat.

HANSON
"AND KUSANAGI GOES FLYING!! MY GOD!!!"

KLAZZIC
"I HOPE SHE'S OKAY!!"

From the perspective of the announce table, all they saw of Angel's recovery was her hands slowly, eerily coming up to rest on the surface before pulling herself up, emerging like something out of a horror movie. Enough to, hilariously enough, send James Reynolds screaming through the crowd, passed cackling fans.

KLAZZIC
"Impressive!"

HANSON
"I know, right? The resiliency of Angel Kusanagi!"

KLAZZIC
"Well, that too. I was mainly speaking about James Reynolds. I was unaware that he was a scream queen."

Angel Kusanagi slid back into the ring to continue taking the fight to Shelley Silver but, in the end, power and experience overcame the agility and striking that she brought to the table and, once Shelley got her into the corner, it looked to be game over as the older woman came launching across the ring to deliver the--

HANSON
"SILVER BULLET!!!!"

KLAZZIC
"BOOM!!! LIKE A SHOT FROM A POWDER RIFLE, NICK HANSON!!"

Angel Kusanagi didn't go down completely, though, as she held onto the ropes, staring at Shelley through her mess of white hair...and smiled, licking some blood from what was now a cut lip. Looking just a little taken aback -- even a little impressed -- Shelley Silver nodded, turning to run back to the starting corner before immediately turning back and sprinting at Angel again.

HANSON
"Ohhhhhh, don't tell me she's gonna...."

Shelley did, indeed, leap from the ground again, this time clearing an impressive distance and connected with a second Silver Bullet that snapped Angel's head back and left her wobbly.

CROWD
"OHHHHHHHHH!!!!!"

KLAZZIC
"GOOD GOLLY, MISS MOLLY!!!"

With that, Angel Kusanagi went limp, falling out of the corner and to the mat, where Shelley Silver covered her and hooked the leg.

ONE!!

TWO!!

THREE!!

HANSON
"And good night, Angel Kusanagi!! Shelley Silver's going to the semi-finals!"

ARDEN
"Here is your winner...SHELLEY...SILVEEEEEEERRRRR!!!!!!!"

KLAZZIC
"YES MA'AM!!!! THAT'S HOW YOU PULL OFF A WIN WITH STYLE AND CLASS, NICK HANSON!!"

HANSON
"I agree, wholeheartedly, Matt!! I think our Women's Champion approves, as well!"

A brief cut to the announce table showed Adrianna Salvatore, leaning forward in her chair, with her elbows on her knees and her chin on her fists. While she had remained silent throughout the match, seeing this victory was enough to put an odd little smirk on her face. She waited for Shelley Silver to meet her gaze before throwing her a little wink.


As Shelley and Sloane left the ring, the shot cut to another advertisement for Season's Beatings.
_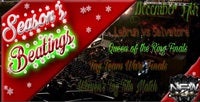 ------------------------------------------------------------------------------------------------------------------------

"Okay, follow the light with your eyes." The doctor's voice said as the camera shot opened up on a close up of Erin Mercer's face. Clean from the blood, the bruising was already coming in and she still had a towel pressed to her forehead to serve as a makeshift dressing while she was checked for any signs of a concussion.

"How's she doing?" Steven Brody asked, as the Commissioner stepped into frame. "You feeling okay, Erin?"

"For the most part...." Erin responded. She seemed coherent enough but her mood was off. A mixture between hurt and confused.

"I don't see any signs of a concussion, but there's obviously gonna be some stitching that needs to be done." The doctor said. "I'd recommend she take it easy for a few days but as long as she's careful not to open the stitches up, she shouldn't miss any action."

Brody nodded slowly. "I'll leave it to Miss Hayes to determine what she wants to do. This ball is in her park, now." He turned down to Erin then, patting her shoulder. "I'm just glad you're feeling okay. Say, where's Alex? I thought she'd be with you."

Erin managed a chuckle. "She got a look at this gash on my head and ran to the bathroom, again."

Steven Brody chuckled under his breath. "I'll go check on her."

"Thanks, Mr. Brody." Erin remarked as the Commissioner stepped out.

"I'm gonna go prep the sutures, real fast." The doctor said, then, stepping away as Erin nodded.

Seemingly alone now, Erin held the towel to her forehead, hissing in pain. "Shit, this hurts, you know?"

She wasn't alone, however, as the camera panned back, widening the frame and revealing that Vincent Stone was there with her. As he, obviously, wasn't competing that night, the man was wearing black track pants, a SEGA 'Yakuza' hoodie with the sleeves tugged up around his elbows and a Grunt Style beanie. He looked...less than happy, as he leaned back against the locker with his arms folded across his chest. He said nothing, as he looked like it was taking everything for him to contain his anger.

"Vin?" Erin said, turning to look up at the older man. Her friend who was always there for her as much as Alex was. "You good?"

"No, I'm not fucking good." Stone said, unfolding his arms and moving to pacing back and forth behind Erin as she sat on the bench. "What the hell was that bullshit, out there?"

Erin shrugged up one hand. "I...have no idea. I mean, there's gotta be more to it than we're seeing. It's not like I said or did anything to piss Lara off." She frowned comically as she stopped to rethink that. "At least, I don't think so. But look, don't be pissed at her. At least, not yet. Not until we know what's up, alright?"

Stone forces a chuckle, turning to lean with his hands against the locker. His back to the camera. "You know what the thing is?" He said, turning around to look down at Erin from behind and shook his head. "It's not even her I'm mad at. I don't know who I'm pissed at. I don't know who I should be angry with. Maybe I should be pissed at Lara for opening my friend's head up like a melon. Or maybe I should be pissed at the one responsible for teaching her it's okay to take her anger out on someone who had nothing to do with it from the start."

Erin Mercer's eyes widened as she had the horrific realization as to what her friend was saying. "Whoooaaa. Whoa whoa. Vin. You don't mean Judas, do you? Think real hard about what you'd be getting yourself into. I mean, hello? You're the one who said to me 'hey look at my Ave Satanas: The Bloodsoaked Career of Judas Lasher' DVD when we first met. Besides, wouldn't you being upset at him teaching Lara to be violent be a little hypocritical? I mean...." She shrugged one hand up and dropped it back onto her thigh with a soft 'slap'. "Hello? You're taking tips from Buzzsaw."

Stone shook his head. "No, see. There's a difference. I'm honing my technique and getting rid of certain inhibitions with Buzzsaw's help. He's not telling me, 'hey, man. You see that guy out there? Commit second degree manslaughter on him.'"

Erin rotated on the bench so that she could lay back and actually see her friend. "You're talking about the guy who just put a man out of action for four months. Fucking Katsuhiko Nakajima would see his name against Buzzsaw on a match card and run off like 'ARF ARF ARF!'" Erin gave her best impersonation of a yelping dog.

Stone couldn't hide the humored smirk at the image, as unrealistic as it was. He knew what point Erin was trying to make, though. Nonetheless, he shook his had. "Yeah, but Ryan Steele's a dick. He runs with the crew, lead by the guy who crossed the line with Adrianna. Adrianna's the daughter of Doomsday. Doomsday's a friend to Buzzsaw. It's like the Butterfly Effect or some shit."

Erin half-frowned/half-smirked at the man's wording. "Butterfly Effect? That's some deep shit, Vin. You get that from your time with Rosemary?"

Stone gave a 'pfft.' "Fuck you." He said light heartedly.

Erin laughed as Stone finally sat down by her head on the bench. "Look. Just don't do anything you might end up regretting, alright? You my boy, Blue. And I ain't losing you again." She raised an arm up over her head from the position she was laying in for Stone to give her a fist bump.

"Yeah...." Stone sighed, unsure of what to do. "I know...." He said, staring off ahead of him, in thought before the shot cut away.

------------------------------------------------------------------------------------------------------------------------

Lara Blackheart had never showered with the ferocity with which she just had. She had let her anger and hurt turn into aggression, and in doing so was not only disqualified and eliminated from the Queen of the Ring tourney, but she'd battered a girl, Erin Mercer, bloody with elbow blows that would make Brock Lesnar wince.

It took her a while to truly feel as though she'd cleaned the blood not only from her body, but from her conscience. Finally, she walked into her locker room, hair still damp and clad only in a white towel, taking a moment to enjoy the cool air as she leaned back against the wall.

Shelley was... less than happy with herself. In her two matches over in EWC the week before, she had come in a very close second. One of which was a case of her opponent cheating. She would be getting her revenge, though. The owner of the company had a soft spot for Shelley, having personally recruited her out of the indies when she didn't even know how to put together a match. It had been a messy start, but Shelley had quickly gotten her footing and earned her first championship within months. It's just that in the three years since then... she had been on a steady decline without a real rise in sight. She was fed up and since her "fiance's" career had gone a bit stagnant, he'd been more focused on his title... just like he had promised to her fact that he wouldn't be. Right to her face.

Without saying anything to Shelley left Shanghai after her last match with Lara instead of him, taking off her engagement ring and putting it into the box that she had for when she had matches. She didn't see a need in keeping it on when she wasn't with him or around EWC related functions/shows, it was just... a pretty accessory anymore. Just like a championship belt. She had watched Lara's match and shook her head with a sigh when it was over. She sat on a bench in the locker room while Lara showered off. Quietly reflecting and wondering when the younger girl would simply open her eyes.

As Lara walked over to her locker, she raised an eyebrow when she saw Shelley waiting for her. She had basically asked Shelley to run away with her while they were in Shanghai, and that didn't quite turn out the way the blonde had hoped. "Hey Shellz. So.... is this where we're gonna talk about why you tried to cockblock me on Twitter?"

Shelley shrugged, "because I thought that I was enough for you, and you are better than that." She shrugged as she pushed herself up. It was one of those situations where she couldn't spell things out, because that would actually further harm the situation. It would be have to be handled delicately. Misunderstandings came often. Boyfriend #2 thought that they were just fooling around while boyfriend #3... well, Shelley believed that it was a kayfabe thing. She didn't have the best luck in her relationships with men because quite frankly, despite actually loving a couple of them, her heart wasn't really into it.

"Wait what?" Lara asked, blinking. It was obvious from the look on her face that this was legitimately a shock to her. "Shellz. You're engaged. Why would being your side-piece be enough for me? I've loved one person in my 19 years, Shelley. ONE. And while we're.... friends again now, she hurt me in a way nobody's ever hurt me. But you know what? I managed to fall in love again. And with someone I'll never be more than a fuckbuddy with. So why are you so goddamn upset about it?"

Shelley took a deep breath, "engaged doesn't mean getting married, Lara. Especially after a year and barely seeing each other in that time. There was a better chance that I was going to marry Eric Steel than I am Eric Carr." She spat out bitterly, shrugging and refusing to look at Lara. This was especially hard on her because where she did love Ace, she had been finding herself falling for Lara fast and hard and not knowing what to do about it.

"I can be a lot of people's piece of ass on the sly, Shelley. But not yours." She said, eyes reddening, as she spun and punched her locker in frustration. "I can't screw around with you then be all 'la-dee-da' while you go and stay engaged to someone else. I can't. I don't want to be your consolation prize. I deserve more, dammit. I deserve to be the sun in someone's sky."

"You know what?" Shelley threw her hands up in the air. "Never-fuckin'-mind," she shook her head, starting to walk away. "Maybe you're not worth it."

"Shelley Silver what the actual legitimate *fuck* are you talking about???" Lara flailed, a sight that would be funny if it wasn't so heartbreaking. "I asked you, in Shanghai, if you'd run away with me. I meant it. I am in fucking LOOOOOOVE with you, you dumb-ass!"

Shelley turned to face Lara once more, sneering a bit, "yeah, no shit. And you weren't paying attention to the fact that I didn't turn you down. You are actually being quite selfish, but you can't even see it." She shrugged, opening the locker room door, the sad look in her eyes even more obvious than it had been before. "I'm not sure that you can handle this," she stated in a soft tone before stepping out the door.

"Shelley..." Lara called out, her voice cracking. "I love you. I swear to you... if you end things with Ace, I will be completely loyal to you. No more screwing around with *anyone*. All I want is *you*."

Shelley listened to Lara's words, but she didn't move to go back into the locker room. Instead she stood out in the hall, taking a few deep breaths as her eyes filled with tears. The door was swinging back and forth, so she knew that is she spoke loudly enough, Lara could hear her. "You, I believe."

"Please come back in here..." Lara said, flexing her hand in pain, "Come back in here and be *mine*. I'm selfish. I admit that. I'm immature. I'm probably not what you deserve. But I can be what you * need*."

Shelley clenched her fists, looking down for a moment before turning around and walking back into the locker room. "First of all, I should point out that Ace King is just his ring name and this whole time, I feel like my relationship has been with him," she shrugged, looking into Lara's eyes.

"So.... You guys are done?" Lara asked, looking truly vulnerable for only the second time since they'd met. "You can be with me and only me?"

"It's not like he got me pregnant yet, or anything," Shelley stated dryly with a shrug. "I hate feeling like I am just for show."

"I need to hear you say it, Shelley. I need to hear you say you're ONLY mine." Lara said, for once letting her insecurities show like an open wound.

"Can't you see I'm afraid?" Shelley snapped back, truly not able to say what what just asked of her.

"I am too, Shelley." Lara told her, walking toward her, still standing in that towel, and took her hand. "But isn't this worth pushing past fear for? I will give you every bit of attention, affection, and love that you deserve. I will NEVER push you aside."

She blinked, realizing the camera was still rolling. "You! Get that fucking camera outta here!"

Shelley's pale skin turned white as a sheet as her eyes went wide. "Not everything is meant to be public knowledge, you Cretin!"

Quick cut to black as Lara grabbed the camera and threw it.

------------------------------------------------------------------------------------------------------------------------

In the main event of the evening, mother and daughter unleashed absolute and all out WAR on each other as Marissa Payne took on LeeAnn Viskan.

In a contest that went on for an uncomfortable, near twenty minutes, we saw LeeAnn cast all family values aside as she immediately went after Marissa with all of the same submission moves she would have been seen using on anyone else.

On the flip side, with Morgan Payne in her corner, motivating her as best she could, Marissa seemed to have pushed away all worries as she lashed out at her mother with a vicious array of kicks and knees. Each kick sounded close to that of a shot gun a small caliber pistol, POPPING each time Marissa connected with a kick to LeeAnn's ribs and thighs. More so when she delivered an all-out kick across her mother's head that sent the woman slumping to the canvas onto her knees.

HANSON
"SHE'S DOWN!!!! SHE'S DOWN!!!! LEEANN VISKAN IS DOWN!!!"

KLAZZIC
"WHAT A NIGHT THIS WOULD BE IF MARISSA PAYNE CAN SINCH THIS VICTORY!!!"

REYNOLDS
"I THINK SHE'S ABOUT TO!!!!"

SALVATORE
"YOU GOT THIS, MARI!!"

Standing back against the ropes, watching as LeeAnn began picking herself up off of the mat, Marissa looked torn between a decision as, behind her, from outside, Morgan Payne slapped the mat with her hands, cheering her on.

"FINISH IT!!! MARI, FINISH IT!!!"

Marissa had already connected not one but two Bitch Killas that proved unsuccessful, as close as the pinfalls were. Here, however, seemingly overcoming that last bit of restraint, Marissa pushed her kickpad down and poised herself.

HANSON
"Oh, no way."

REYNOLDS
"NO WAY!!!!"

KLAZZIC
"Is she really, gonna...?!"

When LeeAnn Viskan lifted herself up, completely onto her knees, Marissa Payne took a running start, threw out her leg....

And LeeAnn caught the leg against her chest, dragging Marissa down to the mat where she managed to quickly lock in the Chemical Wedding.

HANSON
"NO, WAIT A MINUTE!!!! CHEMICAL WEDDING!!! VISKAN'S GOT THE CHEMICAL WEDDING LOCKED IN!!!!"

KLAZZIC
"LOOK AT THE PAIN ON HER DAUGHTER'S FACE!!!! HAVE MERCY!!!!"

REYNOLDS
"CALL IT TOUGH LOVE, MATTY!!"

After nearly a minute of struggling to escape, her face wracked with pain, Marissa gave in and tapped on the mat, causing the bell to ring and LeeAnn to instantly let her out of the hold as Marilyn Manson's "Cry Little Sister" played.

ARDEN
"Here is your winner...LEEAAAAAANN...VISKAAAAAAAAAN!!!!!"

HANSON
"The semi-finals are set!! We've got Alex Brody vs Erin Mercer!! We've got Shelley Silver vs LeeAnn Viskan!!"

REYNOLDS
"Champ? This looks like it's gonna be a personal battle for you, no matter what, at WrestleWar! Can you imagine if you have to face your own mentor?! Not to mention having to drop the belt to her!!"

KLAZZIC
"Would you like me to move out of the way, Miss Salvatore?"

Adrianna Salvatore said nothing as she removed the headset and picked up her title, standing silently as she watched the ring. Inside, while LeeAnn's music signified her as the victor, she joined Morgan Payne in helping Marissa Payne to her feet, pulling her daughter into a hug and giving her a proud kiss on the forehead for her valiant effort.

KLAZZIC
"Just what I was hoping to see!!"

HANSON
"I think we all were, Matt!! Well, folks, we thank you for joining us today. We'll see you back tomorrow for the next round of Battle of the Juniors!! For Matt Klazzic and James Reynolds, I'm Nick Hanson!! So long, everyone!"

Credits roll and the show fades out with LeeAnn, Marissa and Morgan all in the ring, raising their arms.