Post by Super Tiger on Jul 14, 2020 14:52:52 GMT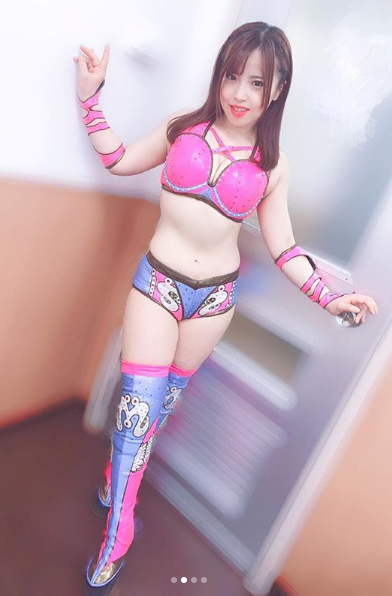 Full Real Name:
Moe Renhuan
Ring Name:
Moe Renhuan
Nicknames:
AnimeZing, Moe Moe, Mojo
Twitter Handle:
@hyperneorenhuan
Age/DOB:
October 31, 1998
Height:
5'7"
Weight:
137 lbs
Birth Place:
Taipei, Taiwan
Current Residence:
Asheville, North Carolina, United States
Alignment:
Tweener (Heel Tendencies)
Gimmick:
Larger than Life Cosplay Queen with no sense of self preservation whatsoever
What Show Would You Prefer To Be On:
- Delete the one you don't want.
Collision - Red Brand
Entrance Theme:
Super Shooter - youtu.be/LwASduq7a9Y
Entrance Description:
As Super Shooter begins to rock the PA of the Collision Center, so too do the multicolored lights and strobes signaling the entrance of Moe Renhuan. She steps onto the ring in her Tokyo Ghoul mask, and immediately begins to rave along with the music as rainbow colored sparks shower the stage while the crowd boos.
"Making her way to the ring, representing the Kingdom... she is one half of the Queen's Guard..."
Moe sprints down the ramp, sliding under the bottom rope on her stomach before hopping up to her feet, spinning wildly in place before stopping to face the hard cam and drawing her LED katana, slicing vertically and then horizontally before putting it back in it's sheath over her shoulder.
"She is the Neon Samurai... MOE RENHUAN!"
Moe takes the sheath off of her back, walks over to the ropes, and tosses the katana down to her little brother Tommy, the Little Royals, and their caretaker Alexa before making her way to her corner to prepare for her opponent.
Favorite type of match:
Ladder Match
Least favorite type of match:
Submissions
Favorite Weapon:
Her LED Hard Fiberglass Katana
Professional Wrestling Debut
2019
Independent Circuit:
2019
Professionally:
2019; HYBRID and NFW
Finishing Moves:
1. "Attack on Titan" - Front Flip DDT
2. "Kagune Lock" - Rings of Saturn
Trademark/Signature Moves:
1. "Big Bang Attack" - Triangle Codebreaker - Moe runs at the corner, running up the turnbuckle before leaping back, turning in the air to execute a Codebreaker on her opponent on her way down.
2. "Tailed Beast Bomb" - Panama Sunrise - Moe Leaps from the second or top turnbuckle, catching her opponents head between her thighs before executing a Canadian Destroyer.
3. "Cybernetic Augmentation" - Sunset Flip Double Knee Backbreaker - Moe leaps onto an opponents back from the front, placing her knees on their back before executing a flip into a backbreaker.
Common Moves:
(Minimum of 10. No more than 20.)
1.
Shining Wizard
2.
Headscissors Whip
3.
Huricanrana, Frankensteiner, Poisonrana
4.
Muay Thai style knees and kicks
5.
Various Neckbreakers
6.
Various Jawbreakers
7.
Chop Block
8.
DDT
9.
Crossbody - Running, Springboard, Top Rope
10.
Meteora - Running to seated or kneeling opponent either in ring or in the corner, or Diving from Top Rope
In-Ring Strengths:
Limitless Energy, Top Rope Savant
In-Ring Flaws:
Known for taking unnecessary risks for style. Horrible submission defense
Wrestling Style:
Over the top Lucha Libre
Wrestling Attire:
See picture
Picture Base:
Mina Shirakawa
Can You Help Write Matches:
Duh
Your OOC/Handler Name:
(What would you like to be known as when being addressed OOC?)
Spencer
Biography:
Moe is currently a member of the Kingdom, and tag partner with Lluvia Cane, known together as "The Queen's Guard". Having joined the Kingdom after Jasmine Matthews insisted they move into the Castle upon finding out Moe and her younger brother Tommy were essentially homeless. Moe and Tommy both have very high levels of intellect. Moe graduated High School at just 15, and her brother is on track to do so even sooner. In her spare time, Moe Renhuan is the owner of AnimeZing, a cosplay and supply company.