Post by Super Tiger on May 19, 2020 20:24:53 GMT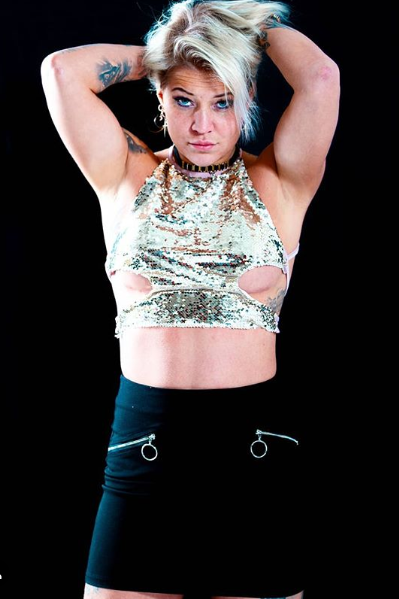 Full Real Name:
Krystal Lynn Kirk
Ring Name:
Krystal Kirk
Nicknames:
KK
Twitter Handle:
@krystallinekirk
Age/DOB:
28 / October 14th, 1991
Height:
6'00"
Weight:
175 lbs
Birth Place:
Lake Fenton, Michigan, US
Current Residence:
St. Ignace, Michigan, US
Alignment:
Face
Gimmick:
A big girl with an even bigger personality, Krystal is returning to the ring after suffering a neck injury that many said would keep her sidelined forever. Now, she's made minor modifications to her power based moveset, and looks to show the world that the biggest member of the Kirk/Donohue family can walk side by side with her younger cousins
What Show Would You Prefer To Be On:
- Delete the one you don't want.
Collision - Every Tuesday
Entrance Theme:
"Till I Collapse" - Eminem -
Entrance Description:
The lights in the arena suddenly start going out in sections with the sound of breakers clicking, leaving the arena, eventually, in total darkness. After a moment of silence, barring the low hum of the crowd, the opening notes of Eminem's "Till I Collapse" come on over the speakers as pink searchlights suddenly come on, sweeping around the arena.
'Cause sometimes you just feel tired, feel weak

And when you feel weak, you feel like you wanna just give up

But you got to search within you, and try to find that inner strength

And just pull that shit out of you

And get that motivation to not give up, and not be a quitter

No matter how bad you wanna just fall flat on your face and collapse….
As the intro continues and the beat audibly swells to the main beginning, the gorilla position is flooded with light, illuminating just the silhouette of a woman standing with her hands on her hips, head cocked up and to the side. An air of confidence oozes from the figure before she's even revealed. When she is finally revealed is when the song kicks into the first verse and the lights shift to reveal the silhouette as she turns around to reveal KRYSTALLINE KIRK! There's a cocky yet sweet smirk on her face as the Detroit native nods in approval to the massive pop she's receiving.
'Till I collapse I'm spilling these raps long as you feel 'em

'til the day that I drop you'll never say that I'm not killing 'em

'Cause when I am not, then I'mma stop penning 'em

And I am not Hip-Hop and I'm just not Eminem
As the first verse continues, K.K starts down the ramp with an unmatched street swag to her step. The way she moves and carries herself says it all without any words needed. She's tough. She's from the streets. She knows how to scrap. She gon' whup that ass. All the same, though, she moves to one side of the ramp to greet the fans that have their hands out, giving side slaps, fist bumps, even daps to a couple who offer it up.
Subliminal thoughts, when I'mma stop sending 'em?

Women are caught in webs, spin 'em and hock venom

Adrenalin shots, the penicillin could not get the illing to stop

Amoxicillin's just not real enough

The criminal cop-killing hip hop villain

A minimal swap to cop millions of Pac listeners

You're coming with me, feel it or not you're gonna fear it

Like I showed you the spirit of God lives in us
As K.K reaches the foot of the ramp, she turns to the ring and stops, even taking a half step back as if she's just now noticing she has an opponent waiting for her in the ring. She stands there at ringside and with that Detroit city attitude, she throws her arms up and out. Whether it's a greeting or a taunt, who knows? Guess it's up to how her opponent takes it! But K.K's there with her arms out, mouthing "whassup?!" under the music.
You hear it a lot, lyrics to shock

Is it a miracle or am I just product of pop fizzing up?

For shizzle my wizzle, this is the plot, listen up

You bizzles forgot, Slizzle does not give a fuck!
Finally, as the chorus to the song hits, K.K puts a little hop in her feet and hits the ring with a burst, running and sliding under the bottom rope. She immediately hops to her feet and with a cocky little dance in her step, she puts a distance between herself and her opponent.
'Till the roof comes off, 'till the lights go out

'Till my legs give out, can't shut my mouth

'Till the smoke clears out, am I high? Perhaps

I'mma rip this shit, 'till my bone collapse
'Till the roof comes off, 'till the lights go out

'Till my legs give out, can't shut my mouth

'Till the smoke clears out, am I high? Perhaps

I'mma rip this shit, 'till my bone collapse
As the chorus continues, K.K moves to one side of the ring where the fans are. She stands up with one foot on the bottom rope and leans against the top rope with her arms out to her sides, nodding to the crowd as if to say: "who ready fo' dis?!" She hops back off the ropes and crosses the ring where she exits, momentarily, and moves to the front row. She finds a random child, anywhere from maybe 5 or 6 to as old as a teenager and pulls her flatbill off of her head. She slips it onto the fan's head, gives them a triple side five, a hug, then pulls off the rest of her entrance gear before getting back up in the ring and waits in her corner.
Favorite type of match:
Traditional Singles
Least favorite type of match:
Krystal is not a fan of anything considered "hardcore". She will fight in these matches without complaint, but they do cause her a bit of worry with her injury history.
Favorite Weapon:
Trash Can
Professional Wrestling Debut
2019
Independent Circuit:
2019
Professionally:
2019 - WWR
Finishing Moves:
"Krystalline Breaker Alpha" - Canadian Backbreaker, "Krystalline Breaker Gamma" - Canadian Backbreaker Drop
Trademark/Signature Moves:
Fisherman's Buster, Exploder Suplex into the Corner, "Chip Away" (10 Beats of the Bodhran)
Common Moves:
(Minimum of 10. No more than 20.)
1. Various Suplexes
2. Various Clotheslines
3. Boxing Jabs, Hooks, Uppercuts
4. European Uppercut (Both standing and to an opponent against turnbuckle)
5. DDT
6. Neckbreaker
7. Elbow Drop to Prone Opponent (Krystal will typically execute her signature pose before doing this)
8. Running Body Splash to Corner
9. Various Backbreakers
10. Corner Mounted Punches
In-Ring Strengths:
Physically Imposing - Krystal is a big girl, and she knows it. She spends her time in the gym, and it shows. Her power is her greatest strength, and she knows how to use it.
Amateur Wrestling Background - KK has the uncanny ability to keep her mind in a match with an almost laserlike focus due to nearly 8 years of amateur wrestling through High School and College.
In-Ring Flaws:
Slow and Steady - Krystal never has been, and never will be, fast. She's focused on doing as much damage in as few moves as possible, and it shows.
Wrestling Style:
Power Based with Amateur Experience
Wrestling Attire:
KK wears a black sports bra style top with her initials studded in purple gemstones across the chest. She wears a pair of black shorts, with a black belt studded with the same purple gemstones, and a pair of black leather boots that come up to meet her black knee pads. She wears a dark purple sleeve on her left arm, and her fingers have black tape on them.
Picture Base:
Izzy Icy -
www.instagram.com/izzy.icy/
Can You Help Write Matches:
Duh.
Your OOC/Handler Name:
Spencer
Biography:
Krystal Lynn Kirk, much like her younger cousins Lash and Arley Donohue, lost her parents at a young age, putting her into the system. The family members were separated, each of them going to different families. KK was raised in the inner city of Detroit to a pair of hardworking parents who did everything to keep their foster daughter on the straight and narrow, despite the temptations around her. They were successful, save one incident. Lash contacted a then 17 year old Krystal, crying after he'd been attacked by his stepfather. Krystal stole a car in Detroit and drove to California, confronting the man. He raised his hand, attempting to slap Krystal like he did Lash. KK, however, was a senior in high school with 4 years of experience on the varsity wrestling team. She caught, and broke, the man's arm, and swore that if he ever hit Lash again, she'd come back and finish the job. The family did not press charges, and, after finding out why, the people who owned the car KK had taken didn't either, allowing the senior to fulfill her obligated contract and going through with her wrestling scholarship to the University of Michigan.
Unlike a lot of student athletes, Krystal put her nose to the grindstone, excelling both in the classroom and on the wrestling mat. Graduating with a Bachelor's Degree in Marine Biology, KK took a few years off to move to Australia and learn from an aquarium there. She met her boyfriend there, though that was a rocky relationship that didn't last long. After a few years in Aus, KK received a call from Arley, asking her if she'd be interested in professional wrestling. Krystal came home to Michigan before flying out to Atlanta to join Arley in a regional promotion there. KK saw a successful career there, capturing a singles title. This title, however, would be her undoing. After losing her title to a woman called the Morrigan, she was hit with a second Gory Neckbreaker which she was unable to defend herself against. This caused serious damage to KK's neck, nearly paralyzing the eldest Kirk.
Months of rehab went by before KK was able to walk again, and her doctor's told her she may never wrestle again. She didn't accept this, even though she promised Arley and Lash she'd be careful and follow the doctor's orders. Training in secret, KK's been building muscle mass again in preparation for her return to the ring after a private discussion with both Luthor Callaway and Steven Brody.