Post by Deleted on Dec 31, 2019 23:34:36 GMT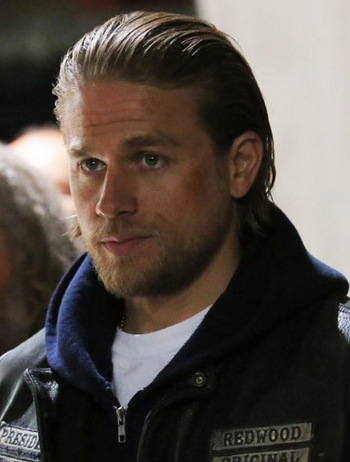 Full Real Name:
Edward Marion Marik Junior
Ring Name:
Caine Marik
Nicknames:
The "Black Swan", "El Arquitecto del Mal" (The Architect of Evil), The "American Nightmare",
Twitter Handle:
@marikblackswan
Age/DOB:
25/07-22-1994
Height:
6'2
Weight:
225 lbs.
Birth Place:
Salem, MA
Current Residence:
Arcadia, CA
Alignment:
Attitude Era Face
Gimmick:
The second-generation wrestler who really doesn't give a fuck, he's just there to enjoy his passion, the fight.
What Type Of Contract Are You Seeking:
Permanent/Guest
Entrance Theme:
"Kaze Ni Nare" (Become the Wind" by Ayumi Nakamura
Entrance Description:Favorite type of match:
Any really
Least favorite type of match:
First Blood
Favorite Weapon:
Whatever is on hand
Professional Wrestling Debut
Independent Circuit:Professionally:
2/22/2012 for the Frontier Wrestling Alliance
Finishing Moves:
1. The "Art of Suffering" (Gravy Train)
2. "Planet Terror" (Muscle Buster spun into Michinoku Driver II)
3. "Down the Rabbit Hole" (Mandible Claw)
4. The "Black Swan Splash" (Corkscrew 450° splash)
Trademark/Signature Moves:
1. The "Death Machine" (Claymore Kick)
2. "Needful Things" (Grounded hammerlock & inverted armbreaker)
3. The "Iron Maiden" (Chickenwing over-the-shoulder crossface)
4. "Pet Sematary" (Shooting Star DDT)
5. "Velvet Buzzsaw" (Tombstone Lungblower)
6. "Doomsday Saito" (Saito suplex)
7. "The Cloverfield Paradox" (Cross-Legged Tombstone Stretch)
8. "RIP-Tire" (Vertical suplex lifted and dropped into a headlock elbow drop)
9. "Lanza" (Diving double foot stomp)
10. "The Arrow from the Depths of Hell" (Tope Suicida)-adopted from Reno Dumont
11. "Shadow Step" (Curb Stomp)
12. "Singapore Sling" (Triangle choke/Cobra clutch combination)
13. "Voodoo Dawn" (Bicycle high knee to the face of a kneeling opponent)
14. "Tales from the Darkside" (Single underhook inverted facelock)
15. "Cape Fear" (Wrist-clutch inside cradle)
16. "Demonic Toys" (Fisherman suplex piledriver)
17. "Perfect Dark" (Reverse piledriver hold transitioned into a double knee facebreaker)
18. Sling Blade, sometimes done multiple times in succession
Common Moves:
1. Multiple slaps
2. MMA-style punches and kicks
3. Cross armbreaker
4. Octopus hold
5. Dropkick
6. Lariat
7. Japanese leg roll hold
8. Bridging German Suplex
9. Dragon Screw Leg Twist
10. Standing elbow drop
11. "Maimline" (Springboard lariat)
12. Cross armbreaker with neckscissors, proceeded by a Russian legsweep
13. Hangman's neckbreaker
14. Ripchord Koppu Kick
15. Knife-edged chop
16. Gamengiri
17. "Slayton Crab" (Single leg Boston crab, while stepping on the opponent's head)
18. High-angle belly-to-back suplex
19. Modified dragon sleeper
20. Multiple kick variations:
-Big boot
-Hook, usually preceded by a wrist lock
-Abisegiri/Rolling wheel
-Shoot
In-Ring Strengths:
Highly skilled striker, highly innovative offensive base, can string moves together on the fly, unafraid of putting his body on the line.
In-Ring Flaws:
Tends to be a bit too saditic in the ring (stiffer than normal shots in the ring, holding submissions till he almost gets DQed for that extra bit of damage, etc), will sometimes be single minded in matches.
Wrestling Style:
British Strong Style and Catch Wrestling combined with Mixed Martial Arts
Wrestling Attire:
In the ring-black wrestling trunks, boots, and knee pads. Black athletic tape around his wrists and fingers.
Picture Base:
Jax Teller/Shane Thorne
Can You Help Write Matches:
If need be.
Your OOC/Handler Name:
Wil
Biography:
See his
Caine Marik Wiki